As with previous waves of unrest, the Iranian government has used restrictions on internet access to combat recent protests over the death of Mahsa Amini in police custody. Critics have identified ArvanCloud – an unsanctioned cloud service provider which claims to maintain clients via a company it established in Germany – as one of several domestic companies which the Iranian government is relying upon to implement these restrictions.
ArvanCloud has helped provide the Iranian government with the infrastructure necessary to restrict internet access, according to critics. ArvanCloud (aka Abr Arvan, aka Noyan Abr Arvan Co; National Identification Number: 14005500319) has assisted in the construction of the Iranian government's integrated cloud network, in line with the development of Iran's national intranet. Notably, ArvanCloud agreed in 2021 to provide lawful interception of "all equipment and services if necessary" as part of a contract with the Information and Communications Technology (ICT) Ministry to develop cloud infrastructure, according to a leaked copy of the contract. ArvanCloud has provided services to other government ministries and civilian clients in Iran as well. While ArvanCloud itself is not sanctioned, it is – according to its own website – 65 percent owned by an enterprise established by the US-sanctioned Pasargad Bank, namely FANAP.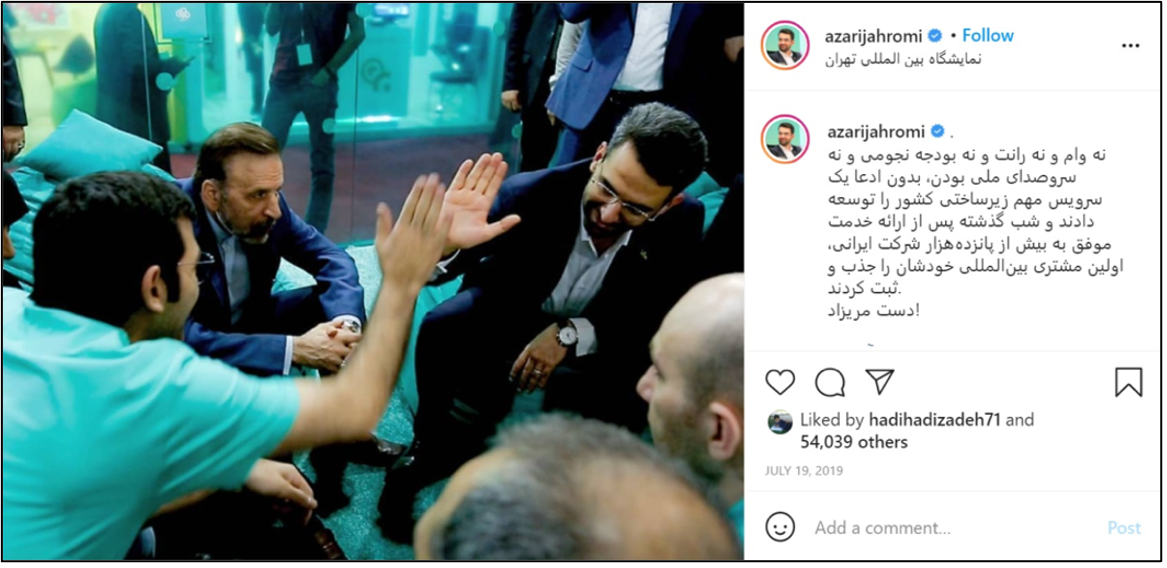 Former ICT Minister Mohammad Javad Azari Jahromi high-fives ArvanCloud CEO Pouya Pirhosseinloo at the 2019 Tehran International Exhibition.
ArvanCloud claims to have served a considerable international clientele – over 5,000 international customers in over 38 countries, according to its Persian-language company records – via a company it established in Germany called Softqloud GmbH. In an October 2021 Persian-language interview with Iranian tech news website Digiato, ArvanCloud CEO Pouya Pirhosseinloo admitted that ArvanCloud registered a company in Germany to provide services to non-Iranian customers, and that ArvanCloud is this German company's technology provider. Although Pirhosseinloo does not state the name of the German company explicitly, it is likely Softqloud GmbH (HRB Number 20372). ArvanCloud's website refers to ArvanCloud as a cloud services provider "in Germany" but also states that ArvanCloud was "established in Meerbusch by Softqloud GmbH." ArvanCloud also offers over 40 PoPs (Points of Presence) across the world, including in the United States.
ArvanCloud is one of several unsanctioned Iranian companies which commentators have identified as assisting the Iranian government in restricting public internet access in response to protests. Several Persian-language dissident Twitter accounts have noted that data collection and analysis company Sahab Pardaz (aka Samaneh Gostar Sahab Pardaz) has assisted with blocking certain websites and applications, has monitored and restricted traffic using deep packet inspection (DPI), and provides facial recognition systems to the government. Yaftar Pajuhan Pishtaz Rayanesh – a sister company of US-sanctioned Amn Afzar Gostar Sharif – has also allegedly analyzed traffic and user behavior to prevent users from circumventing restrictions.
Sources available upon request.