Journalists and human rights activists have highlighted that the Iranian government is using foreign facial recognition technology to enforce hijab laws and arrest protestors. The government has not acquired this technology from Chinese companies like Tiandy and Zhejiang Dahua Technology Co. alone, however– it also collaborates with companies in its own backyard. Several Iranian AI companies are not only cooperating with Iranian security and government organizations by providing facial recognition technology – some are also controlled and supported by security and other governmental entities.
The Iran-based facial recognition and AI company Sciences Green, for example, is reportedly an Intelligence Ministry subsidiary, has had close ties to the IRGC Intelligence Organization (IRGC-IO), and provides services to both national and local government entities. According to Iranian corporate records, former IRGC-IO head Hoseyn Taeb invested in and was a board member of the company starting in 2014; expatriate news website IranWire stated in 2019 that Taeb sold his shares in 2019, but that the company is "said to be a subsidiary of the Intelligence Ministry."Sciences Green's customers include the Command and Control Center of the country's COVID-19 Crisis Management Committee, underscoring the government's widespread reliance on the company's equipment. Sciences Green also serves several major domestic telecommunications companies such as Irancell and Hamrah Aval.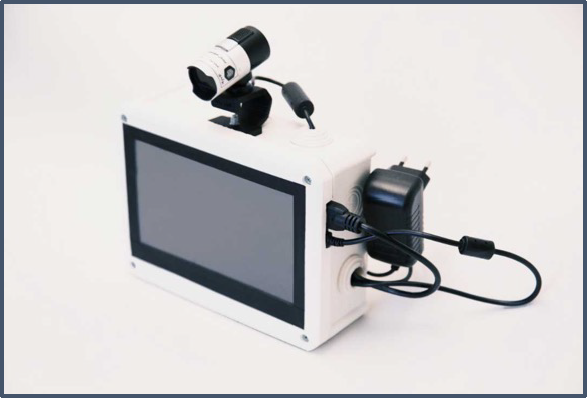 UID's "Maskinow" facial recognition camera
Another company, named UID, used government funding to develop facial recognition software that is now used by the Law Enforcement Forces (LEF, or Iran's police forces). Thanks to support from the Iran Innovation and Prosperity Fund,  the company (also known as Binesh Houshmand Nasl Phoror) produced Maskinow, an authentication hardware product which uses "artificial intelligence algorithms" to identify masked and unmasked individuals alike. UID also provides identity authentication software for the Judiciary's electronic notifications SANA platform.
The Artificial Intelligence Rayvarz company has collaborated with Iranian security authorities by providing facial recognition technology that has led to arrests. According to the company's CEO, the company's "most accurate facial recognition algorithm in the country" has been used to "[identify] more than 60 million faces [for the LEF] in our database, and it has actually solved 15 criminal cases." Artificial Intelligence Rayvarz also works with "[o]il and petrochemical companies, government organizations and departments, universities, banks, private companies, etc."
As AI technology grows rapidly, corporate records and financial statements of private and public firms in Iran offer a glimpse into the reach of government and military officials in the technology sphere. While it is unclear whether the Iranian government has used products from Sciences Green, UID, or Artificial Intelligence Rayvarz to enforce hijab laws and arrest protestors, the government's possible use of such products to repress the Iranian people's freedoms cannot be overlooked. International companies should be aware of the partnerships these domestic companies have with Iranian government and military institutions.
Sources available upon request.