Reports that an Iranian Shahed-136 loitering munition downed in Ukraine in late 2022 contained parts from more than a dozen U.S. and Western companies have spurred interest in Iranian unmanned aerial vehicle (UAV) manufacturers' mechanisms for evading U.S. sanctions and export controls. U.S. officials are placing particular importance on identifying any third-party distributors who are acquiring technology and parts elsewhere and re-selling them to Iranian UAV manufacturers.
This interest underscores the importance of identifying the domestic commercial partners of companies like the Shahed-136's manufacturer – the newly-sanctioned, Islamic Revolutionary Guards Corps-owned Shahed Aviation Research Center (SAIRC). Several Iranian e-commerce companies – including Pars RF and Chipfy – re-sell specialized electronics from Western companies whose components have been found in downed Iranian drones. Two of SAIRC's domestic commercial partners have also had commercial relationships with foreign companies, raising questions over whether these companies could be SAIRC's route to foreign-made parts.
The Iranian electronics resale market is replete with opportunities to purchase microcontrollers, voltage regulators, and other specialized electronics from U.S. and Western brands whose parts were found in the Shahed-136 UAV. On their respective websites, Pars RF and/or Chipfy claim to sell products from U.S.-based Texas Instruments, Switzerland-based U-Blox, U.S.-based Analog Devices, U.S.-based NXP USA, and Germany-based Infineon. (These foreign companies have stated that they are complying with U.S. law and that they condemn unauthorized use of their products.)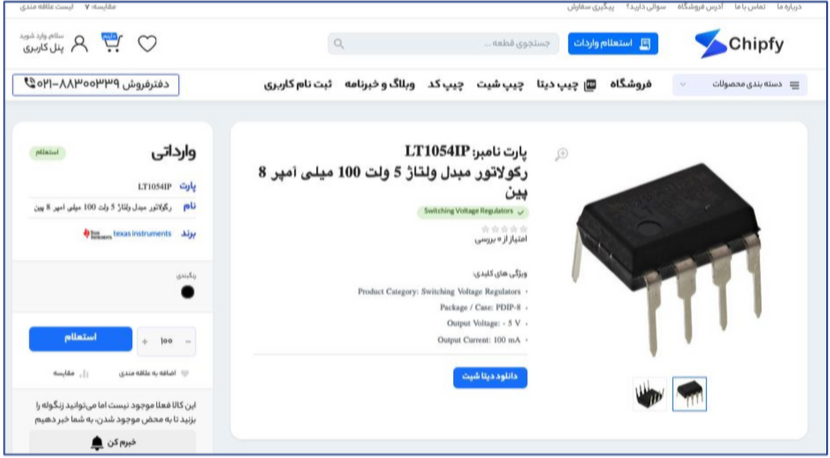 A Texas Instruments voltage regulator for sale on Iranian e-commerce website Chipfy
Although it is unclear if Pars RF and Chifpy acquired these parts directly from the foreign companies and/or through other parties, Chipfy parent company Modern Ertebat Rasa's emphasis on its "strong" relations "with China, Hong Kong, and other countries" reflects Chinese companies' likely intermediary role in the acquisition of these Western companies' parts. While it is uncertain whether SAIRC or other defense manufacturers have purchased from Chipfy or Pars RF, Chipfy's parent company, Iran-based Modern Ertebat Rasa (MER), indicates on its website that it accepts orders "from government organizations."
Two of SAIRC's domestic partners have had commercial relationships with foreign companies.  Iran-based electrical generator import/export company Kia Diesel Spadan has supplied SAIRC with at least one possibly foreign-made item (a Volvo-Penta 450KVA generator) – and also represents four Italy-based power generator and/or automotive parts designers, manufacturers, and distributors, according to its website: Kes Energy, Elcos SRL,  Tecnogen S.p.a., and Marelli.  Kia Diesel Spadan states on its website that it works with the brands Perkins and CAT Diesel Power. None of these foreign companies appear to corroborate a relationship with Kia Diesel Spadan.
Similarly, Iran-based Pegah Model Company has sold product to SAIRC (likely industrial casting services) – and names China-based appliances company Haier and Iran-based Haier Tehran among its partners.
Other Iranian defense manufacturers besides SAIRC are likely accessing the global supply chain through civil Iranian third parties.  For example, document management systems distributor Fojun Exsom has collaborated with a subsidiary of Iranian state-owned microelectronics manufacturer Iran Electronic Industries – and also claims to distribute products from major international electronics manufacturers Kodak and Fujitsu. Future studies will provide more in-depth discussions of UAV manufacturers as well as other Iranian defense companies, in hopes of shedding additional light on their R&D processes and other opportunities for accessing the global supply chain.
Sources available upon request.