While media discussions of Iran's foreign policy tend to focus on its hard power outreach, foreign development – and soft power tools more broadly – have been an important component of the Islamic Republic's strategy to project power and promulgate its ideology abroad.
Despite foreign development's role in Iran's soft power projection, little has been written publicly about a crucial instrument of said development: the Ministry of Agriculture Jihad (MAJ), which manages rural and agricultural development and reconstruction both domestically and abroad.
The MAJ provides veterinary services and helps plan livestock conservation activities, facilitates soil and forest protection and reclamation efforts, provides agriculture vocational courses, and helps represent Iran's agricultural and trade interests abroad. Domestically, the MAJ has 32 offices across Iran, and cooperates with other Iranian government ministries and organizations such as the Ministry of Energy.
Internationally, the MAJ collaborates with major international aid organizations such as the United Nations' Food and Agriculture Organization (FAO) and the United Nations Industrial Development Organization (UNIDO). The foreign development portion of the MAJ's remit appears to be managed at least in part by the Center for Public Relations and International Affairs' Office of Foreign Representatives (OFA).
The MAJ leverages rural and agricultural development to bolster power at home and project it abroad. The OFA's objective to "provide support services to deprived Muslims in other countries" particularly mirrors the Islamic Revolution's ideological commitment to the Islamic Republic's role as a leader of the Muslim world.  The MAJ's revolutionary core is reflected in its origins; the MAJ's precursor, the Construction Jihad Organization(CJO), began as a revolutionary organization parallel to (and in competition with) the more bureaucratic Shah-era holdover of the Ministry of Agriculture in the years following the 1979 Islamic Revolution.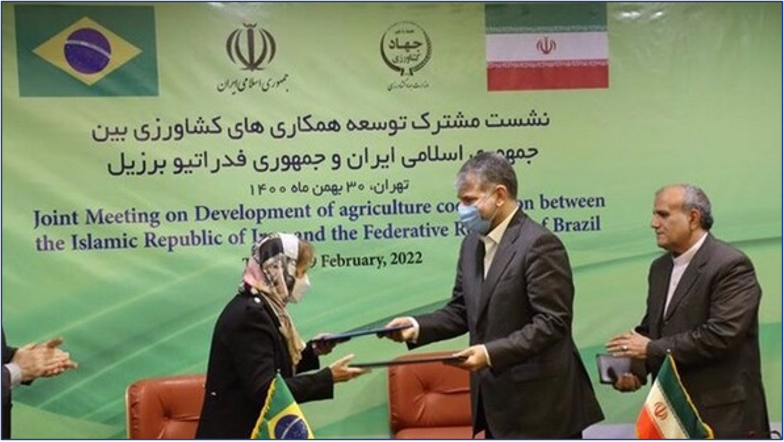 Agriculture Jihad Minister Javad Sadati Nejad (R) meets with his Brazilian counterpart Tereza Cristina Corrêa da Costa Dias (L) in February 2022.
The MAJ (and its forerunner the CJO) have had varying levels of success in implementing its actual development projects and promulgating Iran's revolutionary ideology. In the 1980s CJO helped Hezbollah establish an analogous reconstruction and development organization – the now-U.S. sanctioned Jihad al-Binna. The impact of Jihad al-Binna is significant; thanks in part to Iran's ongoing support for Jihad al-Binna, Hezbollah's strength and resilience continues to be rooted in its ability to win the hearts and minds of the Lebanese Shia Muslim community through social programs like Jihad al-Binna. The MAJ has also implemented reconstruction projects and provided social services in Syria amid the fallout of the Syrian Civil War.
Less successfully, the CJO also undertook a variety of agricultural development projects in Ghana, Niger, Tanzania, Sudan, and Zimbabwe in the 1980s and 1990s. Many of these projects were poorly implemented. The office managing the MAJ's foreign development program, the OFA, has at least three overseas offices in Bosnia and Herzegovina, Ghana, and Comoros.
While the MAJ's presence in particular foreign countries may vary, Iran will continue to leverage it and other soft power instruments to project power and spread its ideology abroad. A more in-depth discussion of Iran's other soft power instruments such as the Imam Khomeini Relief Fund and their relationship with the MAJ is needed to fully understand this important aspect of Iran's soft power strategy and its role in exporting Iran's power and revolutionary ideology abroad.
Sources available upon request.